I have uploaded the ESP8266 Blink sketch to the Sonoff and it appears to be uploaded successfully. However, the led on the Sonoff does not blink. I have also uploaded a sketch that does a simple serial write but I get nothing in the Serial Monitor.
The Sonoff I am using is this one https://www.ebay.com/itm/6x-Sonoff-ITEAD-WiFi-Wireless-Smart-Switch-Module-Shell-ABS-Socket-for-Home-DIYR/401380242897?hash=item5d742075d1:g:h70AAOSwi0xZ6EQG.
Has the Sonoff changed since the SuperHouseTV #17 video on Youtube, or am I doing something wrong?
I have uploaded a screenshot of the board settings I am using in the Arduino IDE.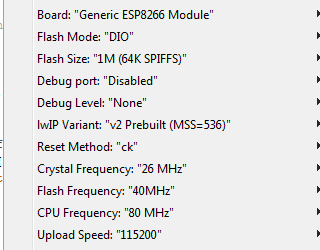 Thanks,
-JP