I added a comment to MisterFixit1952's topic "New option for 8-16 chanel lighting relay board", but thought a new topic might make my project more visible.
There is an inexpensive 16 channel Ethernet connected relay control board available, typically found on Amazon or eBay. Here's a picture for reference.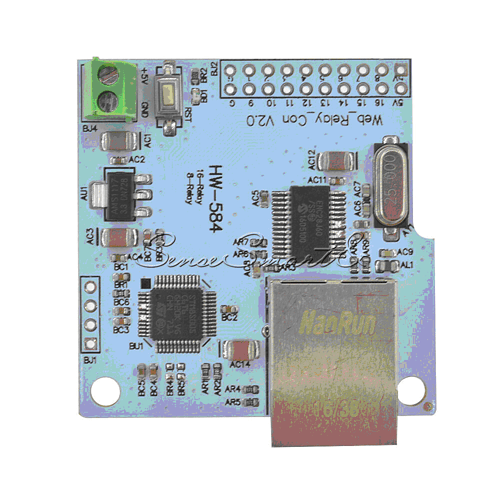 You can buy it for about $6 USD / $9 AUD. But the "from the factory" firmware has numerous issues, the main ones being that all the devices have the same MAC address with no means of changing it, and if you change the IP address or relay settings they all revert to defaults on a power cycle. In addition the devices claim to allow you to create a per device Port number … but it's not really a Port number, it's only a file path. The device default Port number is 80, and it can't be changed. In my opinion all these backward problems made the devices worthless.
So, I've just completed a project to write new firmware for the device. Now via a browser I can change everything … IP address, default router/gateway address, netmask, port number, MAC, relay states, relay output invert, name the module, view net stats … AND all the settings are stored in EEPROM to survive power cycles.
The source code and instructions on how to reprogram the devices are available for free in a GitHub project. Search GitHub for the project "NetMod-ServerApp" or follow this link https://github.com/nielsonm236/NetMod-ServerApp. The project includes full documentation, and my email address is in the documentation if you need some help.
Some additional comments:
When reprogramming the device I found that an 8 channel device becomes a 16 channel device with the new code. So, you can buy the cheaper 8 channel device and still get 16 channels.
A thought for future changes (or you can do it yourself with the source code) is that the 16 channels can either be inputs or outputs. My code makes all 16 channels outputs for controlling relays, but I could just as easily have made it 8 outputs for relays, and 8 inputs for sensing.
I've made a few minor changes to the code in the past month, but in general I believe it is complete. I have five of the controllers on my network for testing, and they seem to be very stable at this time.